Roman Festival
Saturday 23rd September
Originally due to take place on Sunday 23rd of July, and postponed due to a very poor weather forecast, we are planning to hold this event on Saturday 23rd September, when we will once again celebrate Roman life in Malton and Norton
Open from 10:30am to 3:30pm this will be an action packed day of fun for the whole family.
To book tickets visit our Malton Museum Shop
Please retained a copy of your 'Order Confirmation' ticket to present at the gate, unless you have been issued with an e-ticket.
Tickets are also avaiable at gate, and we accept cash or card payments.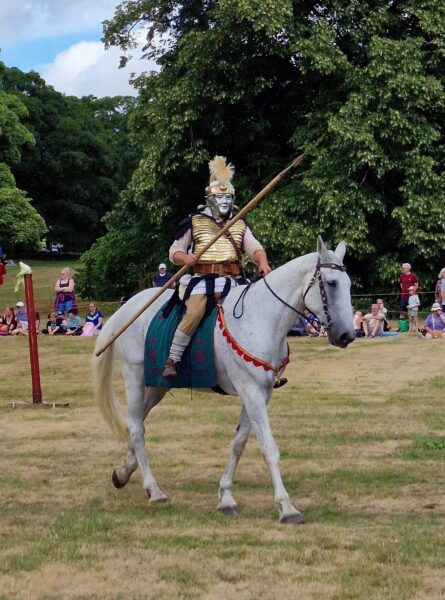 Living History
Our second Roman Festival will include live action demonstrations from the Roman Cavalry by Equistry, marching and battle sequences from Magister Militum, Roma Antiqua and Legio VI Victrix. These well known re-enactment groups will also have military encampments that demonstrate the changes in military equipment and Roman life throughout the 400 years of Roman occupation of Britannia. Being experimental archaeologists these groups live and breathe life in the 'Legion' of Roman Britannia, their equipment is as correct as current knowledge allows and they will happily chat about any aspect of Roman life.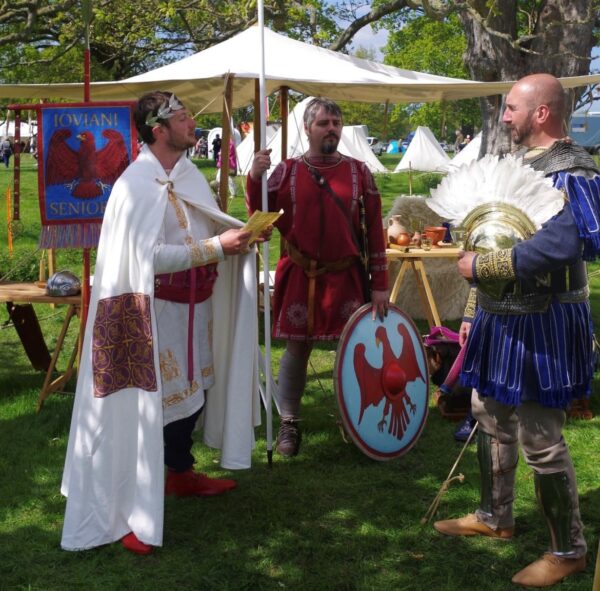 Children's Activities
As last year there will be plenty to keep the children happy including mosaic making, wax tablet drawing, 'archaeological digs', learning some latin as well as being able to dress up as an Ancient Britain or a Roman Soldier. Our most popular activity in 2022 was painting a sword and shield then 'signing on' to the Children's Roman Army! Maximus will put all recruits through their paces assisted by members of our visiting adult armies.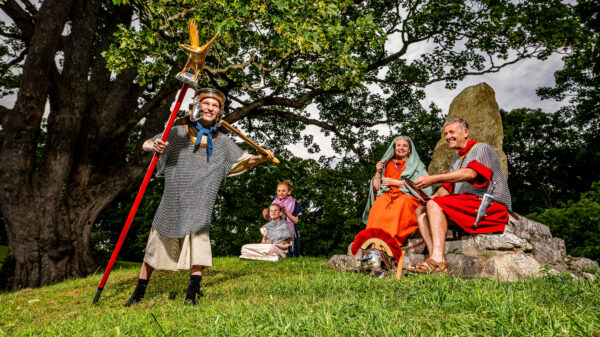 Roman Interest Groups
For the 'grown ups' there will be a 'mini Malton Museum' and displays from Roman interest groups in the region, such as Roman Roads Association, Yorkshire Archaeology & Historical Society, MAP Archaeology as well as the Battle of Stamford Bridge Heritage Society who will be bringing some axes for throwing and Fridaythorpe, Fimber and Wetwang Archaeology Project who will be bringing a magnetometer for you to try. This year we have even more Roman themed authors for you to meet. Dr Simon Elliot, Adult Fiction writers Simon J Turney, and Jane Finnis will be together with Latin author Julian Morgan and kids author Kate Cunningham who brings her 'Vlad the flea in time' stories of Ancient Rome.
Refreshments
We will of course have food and drink on offer, the Bistro Guy is bringing his sour dough pizzas and ices creams are provided by Bertie and Mabel, and Ryedale Vineyards will be there too with their 'Delgovicia Taverna'
Other Information
IMPORTANT NOTE: Please Note: 1: there is no parking onsite, we have used the whole field for the festival To arrange disabled parking options contact [email protected]
2: The fort site is uneven in many places and whilst efforts have been made to make sure it is as level as it can be, we advise that you wear suitable footwear and are cautious at all times moving around the field
For your comfort and safety, toilets, and first aid service are provided.
How to get tickets
To book tickets visit our Malton Museum Shop
How do I get there?
Car Parking
There is parking available at Tate-Smiths on Sheepfoot Hill, Malton, YO17 7DX. Download our Directions Map There are also several car parks in Malton and Norton, some are free and others are Pay & Display; check Parkopedia for current details. Wentworth Street is the nearest and largest car park in Malton Wentworth Street Car Park Ryedale YO17 7JR Journey planners – for those not using a SatNav, various online journey planners are available, such as AA Route Planner
Volunteer On The Day:
Would you like free entry for yourself to the festival? You just need to join our band of stewards and volunteer for a minimum of 2 hours between 6am set up to clear up after the event. Training is provided and must be completed by all volunteers before the day.
To volunteer email us at: [email protected]