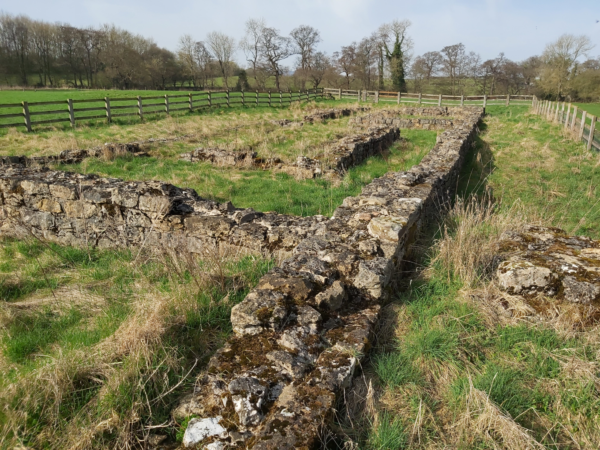 It might be a surprise to you just how many Roman villas there are around Malton and Norton – do you know which features define a Roman building as a villa…?
To Pliny the Younger, writing in the 1st Century AD, the Latin word 'villa' simply meant a country house where he could escape from the hustle and bustle of the city. But ancient East Yorkshire was a long way – both geographically and culturally – from Italy so we need to tread carefully in using the term 'villa' to describe Roman structures that might be unearthed within the local countryside.
Professor Martin Millett has proposed that – in Britain – rural buildings might be classified as villas if they are rectangular in plan, make use of stone, have solid floors (sometimes with mosaics) in addition to hypocausts and baths. Using these criteria, it seems that at least twenty-one Roman villas can be identified within a 30km radius around Malton (and a dozen within 20km) including examples at Hovingham, Langton and Beadlam.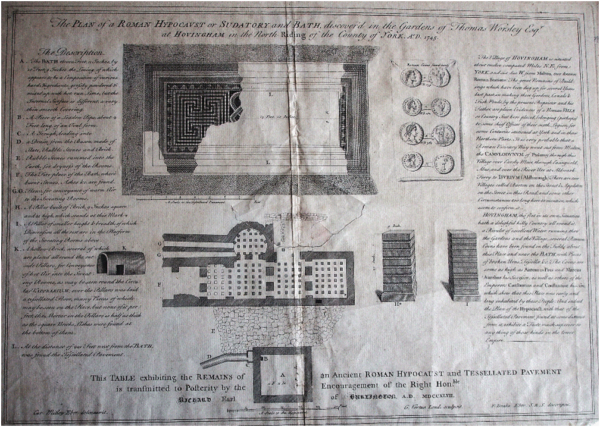 During the construction of ornamental gardens, streams and fish-ponds at Hovingham Hall in 1745 the remains of a Roman bath-suite were found complete with hypocausts (Figure 1) . Some 74 metres west of this structure another building was unearthed containing a mosaic floor and, more recently, a Ground Penetrating Radar (GPR) survey has identified a further rectangular building, 45 metres by 23 metres.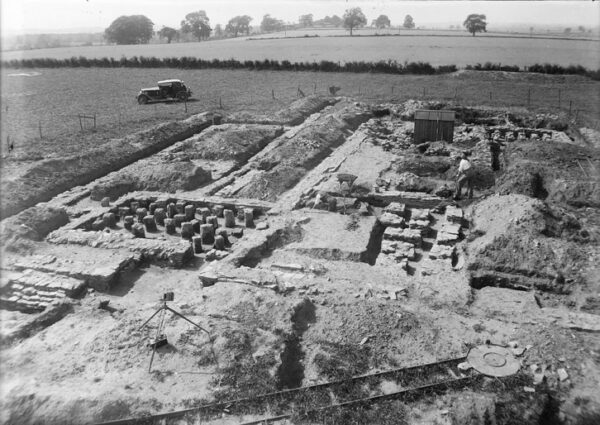 At Langton at least two Roman villas existed and the one located east of the village was comprehensively excavated in the 1930s. A particularly significant discovery was the remains of a building termed a 'dwelling house' with hypocausts and the vestiges of a mosaic pavement (Figure 2). A small bath house was also found 55 metres further east.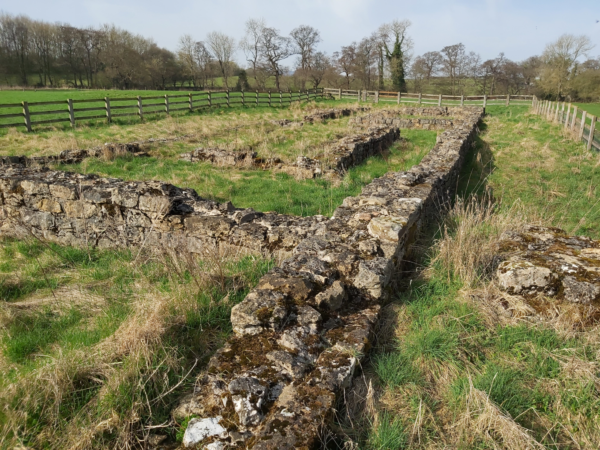 The villa at Beadlam is the only local example where the walls are still exposed above ground (Figures 3 & 4). It was discovered in 1964 by ploughing and then carefully examined over the subsequent 15 years. Important finds include mosaics (possibly made by the same individual as the example at Hovingham), wall plaster, channelled hypocausts and wall heating flues in addition to the remains of a large number of glass drinking vessels.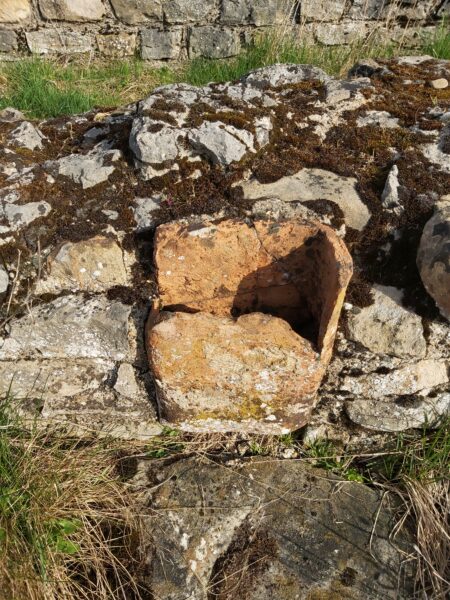 Beadlam is a complicated structure with three main ranges – north, east and west – and eleven distinct buildings. The northern section is visible today and, although the mosaic discovered there has been moved to storage in Helmsley, it is a splendid site to visit (Figure 5). A bathhouse was also found at the end of the west wing and this area can still be detected as an earthwork.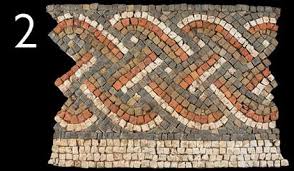 In common with the Langton dwelling house, the north range at Beadlam was fronted by a veranda and it seems likely that both buildings had upper stories too. They were probably mixed farms with a considerable quantity of animal bones being found at Langton and possible stock yards at Beadlam. There were also corn-drying ovens and Beadlam boasted a small mill too. Many villas were not simply agricultural establishments and often accommodated other manufacturing and processing activities. Two large hoards of iron tools have been unearthed at Beadlam and there was metal working taking place at Langton.
At both Langton and Beadlam there is archaeological evidence of structures that existed prior to the villas being built, suggesting that the occupants may have been Romanised locals. The finding of bronze writing styli implies that they might have been literate too. It is quite conceivable that such individuals could have held positions of importance in Malton where they also took their produce to market. However, it is important to appreciate that, across Britain, many villa residents would have been tenants while some owners were not British or even lived in Britain.
Based on the coin, glass and pottery finds at Hovingham, Langton and Beadlam it is clear that they were all occupied from the mid second century until well into the late 4th or early 5th centuries. This prolonged period of use – with many of the embellishments to the living accommodation taking place in the 4th century – perhaps reflects confidence in the security provided by the troops at Malton and the signal stations along the coast. Interestingly a cavalry spur and a Roman military strap end have been found at Beadlam.
As part of our new range of tours this year, Malton Museum will be offering visits around Beadlam Villa and Cawthorn Roman Camps. Look out for details on social media, our website and in the local press. Both tours will be led by our 'Blogger' Nick Summerton.
---
Figure 1: The 1745 report of the finds at Hovingham ©Sir William Worsley
Figure 2: Overview of the excavations at Langton ©Malton Museum
---
Figure 3: The edging of the mosaic at Beadlam ©English Heritage
Figure 4: Box flue tile in the wall of the heated mosaic room at Beadlam ©Nick Summerton
Figure 5: Overview of the villa at Beadlam ©Nick Summerton
Find out more about Beadlam on wikipedia: wikipedia